Archive for category Arts & Crafts
Over the last few years, staff at the U.S. Geological Survey (USGS) Western Ecological Research Center have been distributing coloring sheets at outreach events featuring California's native herps. Among those species featured are natives – the western pond turtle, the California newt, and the mountain yellow-legged frog, and non-natives – the red-eared slider and the American bullfrog.

The mountain yellow-legged frog is one species on the brink of extinction. With wild populations numbering in the low hundreds, the federally endangered species suffered a setback in late 2011 after 104 frogs died mysteriously in the middle of a captive breeding program at the Fresno Chaffee Zoo. Only two frogs survived. What that means for the future of the species is still unclear.

Red-eared sliders and bullfrogs are both among the culprits responsible, in part (among other factors), for the declines in western pond turtle and mountain yellow-legged frog populations: sliders for their role in introducing disease and out-competing native western pond turtles, bullfrogs for their likeness to a black hole, eating anything that could conceivably fit into their mouths, frogs and hatchling turtles included.
The sheets give kids an opportunity to not only learn about California's native herps, but also which herp species are invasive non-natives. The entire collection of coloring pages can be found at the USGS-WERC website here.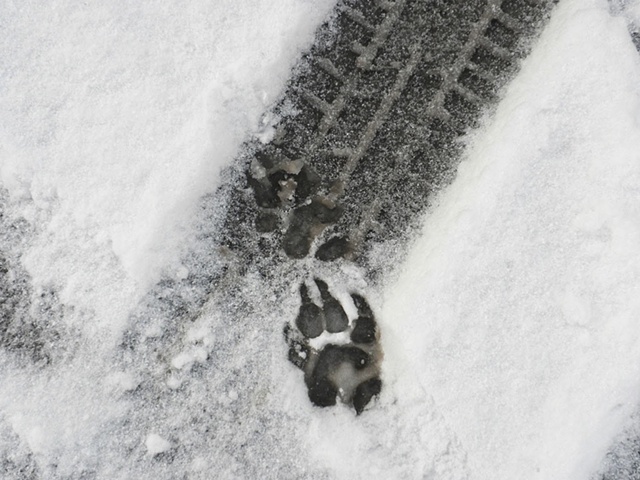 Realizing every schoolboy's fantasy, Canadian artist Maskull Laserre has pioneered the reintroduction of wolves and caribou onto the snow-swept streets of Montreal and New York City with nothing but a pair of shoes.
Laserre's recent project, Outliers (Trace), involved re-engineering the rubber tread of everyday footwear to incorporate the footprints of wildland creatures. The result is part nature nostalgia, part wishful thinking, part social commentary, and part deviant delinquent. Imagine the thought processes that might be tripped when unsuspecting passersby do a double-take over bear prints window-shopping their way down Broadway.
To date, Laserre has molded the spirits of wolf packs, wolverines, white-tailed deer, caribou, and Kodiak bear into tennies and combat boots alike; there's even a pair of runners sporting human footprints (see the galleries here and here). Be it introspective or retrospective, Laserre's soles capture the soul of the wild.